31 March 2022
ESB feeds the timber and construction industries
With the creation of new training programmes, jointly compiled with timber professionals, the Ecole Supérieure du Bois (higher college of timber engineering) helps address the sector's needs all the way from tree to product. Studies director Pascal Vinot runs through the college's new offerings with us.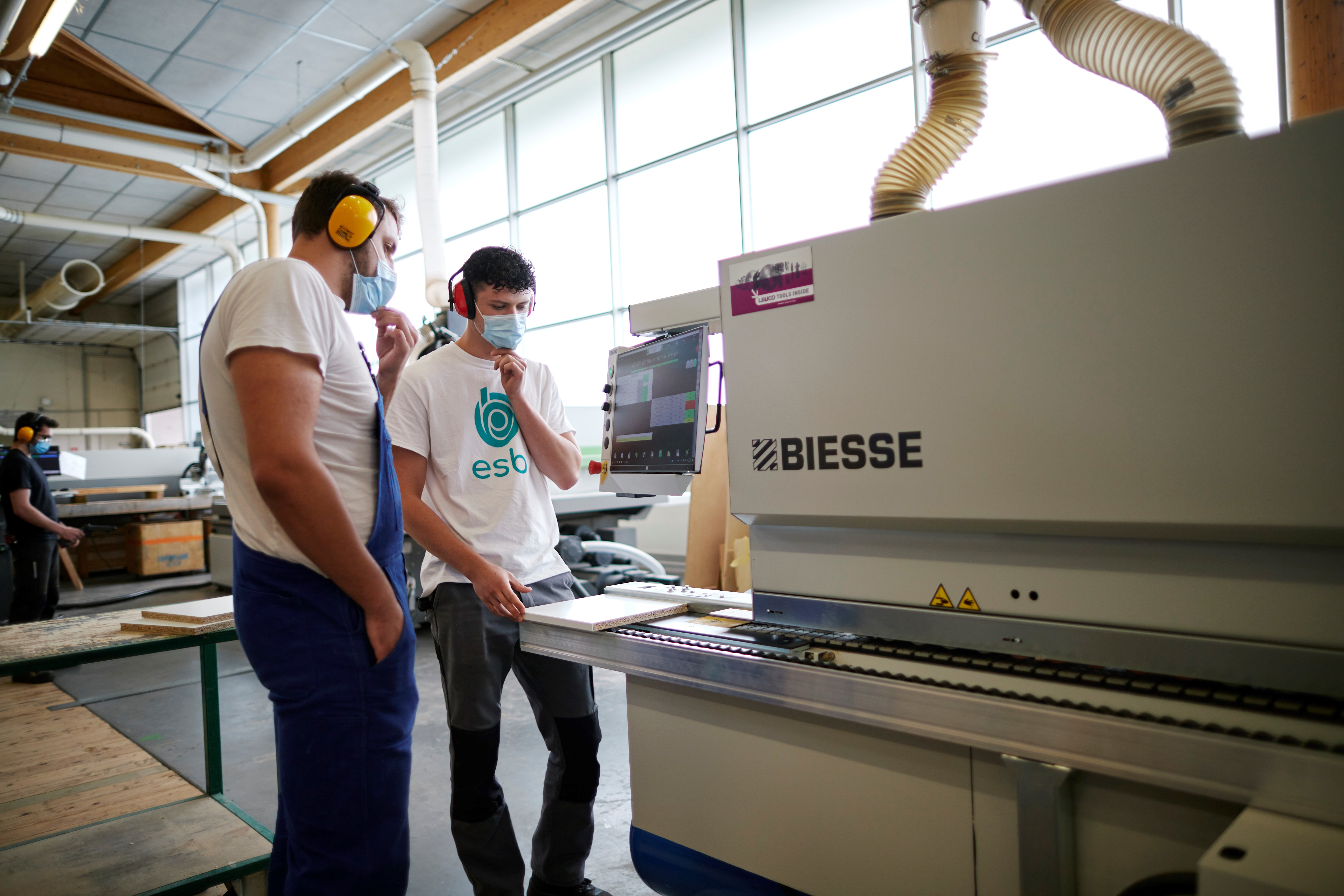 With the rise in power of timber, notably in construction, you have updated the training content of the "bachelor" (advanced diploma) courses you run. How and why?
Our bachelor course in the "Science and Technology of Timber and Bio-Based Materials" now features two distinct streams, one focusing on timber and the digital transition—therefore leaning heavily toward production—and the other, beginning this year, focusing on the management of timber & low-carbon projects. These two specialities are our response to a heavy demand from companies and stakeholders involved in timber conversion and construction. 
The development of digital and the mounting need for bespoke as well as serial production imply advanced management of the industrial conversion process. Sectional managers are needed who excel in production control, machine knowledge, and team management. To this end, the ESB has invested in a €1m+ industry 4.0 production line in partnership with Biesse.  This will constitute an advanced training facility for students in the areas of production optimization (progress, management, organization), predictive maintenance, etc.
Meanwhile, in the "management of timber and low-carbon projects" stream, the issue is one of addressing the evolution in construction materials; more specifically, the management of interfaces between the various trades. Businesses are having to deal with the implementation of French 2020 environmental regulations ("RE2020") among other major changes and must adapt to the new mix of timber, steel, concrete, and bio-based materials. Furthermore, they need to manage recycling processes when one building is demolished to make way for another. All these facets involve a new generation of know-how that is very much in demand.
You are also planning to offer Mastère® specialist postgrad courses. What can you tell us about those?
There will be three new high-level Mastères Specialisés programmes in 2022, aimed at graduate engineers completing their studies or seasoned professionals wanting to upgrade their skills. They cover very precise subjects that represent major issues for industrial companies.
The first of these, on the implementation of low-carbon construction projects, sets out to integrate the multi-material element right at the conceptual design stage and thus contribute to a project's optimal environmental and economic performance. Creating a multi-materials project means building a system with many inputs, interfaces, and product customization requirements. This is a huge deviation from all-concrete projects, for example, and no high-level training has so far emerged to cover this need.

The second of these programmes ("Mediation territoriale, RSE - Filières forêt-bois") is being developed in partnership with Bordeaux Sciences Agro. It takes up the theme of corporate social responsibility in forestry and timber. The increasing use of timber, coupled with global warming fears, raises questions among the public on the acceptability of forest exploitation. Reaching out to forest users, associations, hikers, timber growers, etc., in an educational approach based on reliable scientific data is indispensable when trying to persuade certain parties to rethink their entrenched opinions or tenets. This programme sets out to produce "forest mediators"—people who can talk about and get all interested parties involved in talking about the forest.
The third and last programme sets out to train fitting-out project leaders so that they are able to manage ever more complex specifications, incorporate quality standards, manage relations with customers, all with a strong international bias. This is a requirement expressed by many French businesses with a big international outreach, who might for example receive orders for hotel fitting in Dubai, Monaco, or Paris. These companies need people who are proficient in both technical expertise and relational skills.
 
You are also the college's apprentice school principal. How does apprenticeship fit into the ESB's training programme?
It's a very strong axis in the training courses we develop for certain curricula. In 2013, we began offering an engineer sandwich course in timber science and technology. We also run a BTS (technician diploma) sandwich course in timber home construction systems, whose student intake will rise to 40 over the next two years to meet a big demand from companies, especially for carpenters. The bachelor course also is in sandwich format, involving one year's academic tuition and two years' apprenticeship.
This is an advantageous mix. For young trainees, the in-company experience is a huge training asset that facilitates professional insertion. For the ESB, it's a great way of strengthening its interaction with the business world in order to better fulfil companies' needs.