19 November 2021
Canopée Challenge, where timber innovates!
The Canopée Challenge (formerly La Canopée contest) is back with new features to help boost this new edition while maintaining the same objective: to promote innovation in the forest & timber sector in order to nurture its competitiveness and discover new talents. The first regional stage of the challenge will take place at Eurobois on 3rd February, 2022, in Lyon. We speak to François Vulser, who created and manages this contest. 
What has changed since the previous edition ?
For a start there's the name. La Canopée contest (Concours La Canopée) has become Canopée Challenge, with its ambition taking on an international dimension.  Next, we have looked at the feedback and used it as a basis on which to improve the scheme. There are now three categories: Creation, open to individual project instigators and businesses up to three years old; Development, open to businesses over three years old; and International, open to project instigators from outside French borders. The idea is to attain maximum outreach in order to garner interest from as many projects as possible and attract the greatest number of initiatives.
A shortlist of at least 36 projects will be selected—we can accommodate up to 60. Additional regional stages will be organized. And finally, to help us expand our opening, two new heavyweight partners, Fibois France and the Xylofutur Competitiveness Cluster, have teamed up with the contest's founders Forinvest and Ecole Supérieure du Bois (Higher College of Timber Engineering). These new partners, closer to the coalface, will help us unearth projects that might otherwise have been left out. 
Have you also increased the pay-out ?
The prize money will be €50,000 compared with the €15,000 at the last edition. There are seven prizes in all, three in each of the Creation and Development categories and one in International.  Another new feature benefitting the six winners in Creation and Development: the four joint organizers will provide six month's assistance in the implementation of their project. Fibois will be involved in "consultancy and initiation of relations with experts", Xylofutur will provide support in seeking innovation-led public funding schemes and will also provide access to its "start-up services" modules, Forinvest will lend help in preparing a fund raising strategy, and the ESB timber engineering college will provide bespoke technical assistance for prototyping and prefabrication. 
Why this eagerness to go one step further than a monetary reward ?
"OTO" is a project for a wooden therapeutic armchair that won one of the 2020 prizes. Following on from the final of the first edition, the ESB gave its "judges' special" prize to Alexia Audrain. The project instigator was thus able to take advantage of the college's incubation programme for assistance with the V2 prototype. This assistance enabled her to meet industrial manufacturers and to benefit from ESB's technical background as well as help on the commercial front. As far as Alexia is concerned, that far outweighed the Canopée's monetary rewards! That's the kind of path we must pursue. Many projects are obliged to revise their initial ambition. Not many start-ups succeed in gathering pace and often find themselves in competition with companies using materials other than timber, other branches with bigger resources, especially in the construction field. Canopée Challenge must provide them with weapons for developing a project and help timber be innovative and competitive. That's the context in which mentoring shows its true colours, and we intend to do all we can to reinforce that aspect with each passing edition. 
What can you say about the Canopée Challenge's international opening ? 
The first edition was more of a proof of concept. The objectives were met and now the team wants to give more visibility to international academic research projects. This international opening also means a lookout can be kept on the possibility of future collaborations. We want the ethos of the national contest to remain intact while opening up internationally. The international stage is planned for 14th April, by video. Depending on the feedback, hands-on stages could be organized in collaboration with the interested countries. It will be France's turn to assume the rotating presidency of the European Union Council on 1st January, 2022 and it will want to focus on certain events promoting the international image of the country during its mandate. Canopée Challenge has been fortunate enough to be one of those selected! The contest will carry the PFUE label.
What steps will be necessary to organize the contest ?
We appealed for candidate projects in October, with an entry deadline of 12th December this year. The impetus was immediate. After just three weeks, 30 candidacies have already been received. The shortlisted projects will be announced on 13th January, 2022. Next we will begin our tour of France, with six regional stages. The inaugural stage will be at Eurobois, encompassing projects from southeast France, that's to say from Provence-Alpes-Côte d'Azur and Auvergne-Rhône-Alpes. In each stage, 6 to 10 project instigators will pitch their projects to a panel of professionals from the sector, trade press reporters, and investment specialists. Three to five projects will be shortlisted at each step, based on criteria including the project's innovative character, the quality of the presentation, the project instigator's background and expertise, the project's economic, social, and environmental impact, its industrialization capability, and a new criterion: potential to succeed.
The final will take place in Paris on 11 May at BPIFrance, a partner of this last stage, who will offer the winners consultancy in funding for their innovation.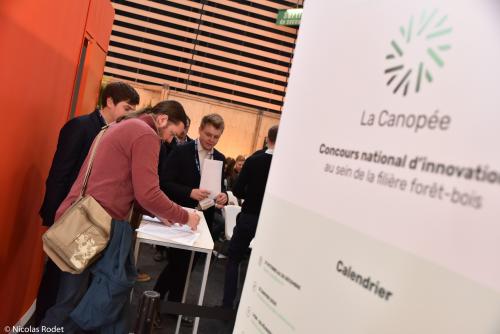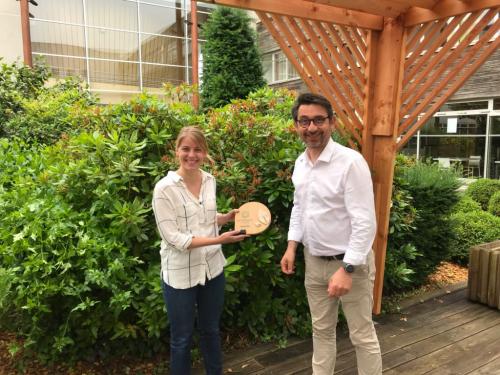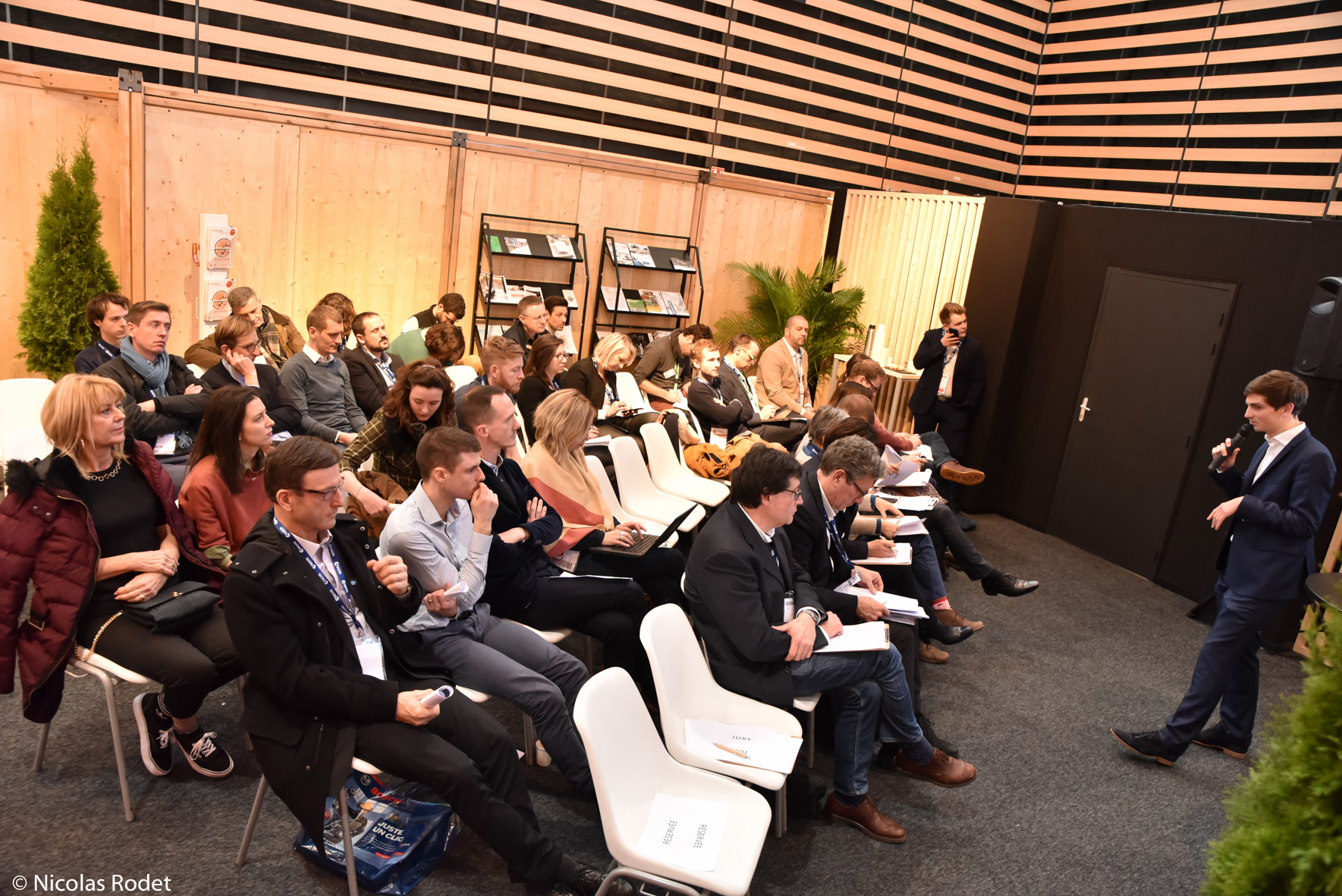 Alexia Audrain, whose OTO armchair won a 2020 prize, and ESB director Arnaud Godevin. 
Contest trials at the February, 2020 edition of Eurobois