EUROBOIS : THE LEADING EVENT FOR THE WOOD INDUSTRY IN FRANCE
REAL OPPORTUNITY TO SHARE AND EXCHANGE FOR ALL NATIONAL AND INTERNATIONAL PLAYERS.
Unique in France over 30 years, the Eurobois exhibition offers you a concentrate of business, exchanges and meetings to boost your development on the French market. 
At the heart of one of France's leading regions for timber conversion, Eurobois benefits from a national influence that is constantly growing.
DOWNLOAD THE 2024 PRESENTATION
---
The meeting place for the professionals of the wood sector 
Discover all the solutions and innovations for wood processing, wood materials and fittings.
​
MACHINERY AND EQUIPMENT
FIRST STAGE CONVERSION
​
MACHINERY AND EQUIPMENT
SECOND STAGE CONVERSION
​
FIXTURES, FITTINGS AND FURNITURE
INDUSTRY SUPPLIES
​
TREATMENT AND
FINISHES
​
ROBOTICS AND
AUTOMATION
​
MATERIAL
TOOLING AND EQUIPMENT
​
CONSTRUCTION AND OUTDOOR FURNISHING​
Who exhibit?
THE NATIONAL MEETING OF THE SECTOR !
With an extensive and representative offering, Eurobois is dedicated to all timber and wood sector professionals. In 2022, 480 exhibitors and brands, manufacturers and industrialists, came to promote their know-how and innovations at THE reference show in France.
---
DISCOVER THE 8 EXHIBITION SECTORS
  1st stage timber conversion machines ands equipment
Production of lightweight boards / sandwich elements 
Kilns for wood thermal modification
Drying, steaming and impregnation of solid timber
Sprinkling treatment booth
  2nd stage timber conversion machines and equipment
Combines machines
Edge banding machines
Machines for boring , dowel-riving and hardware inserting 
Postforming machines
Presses and equiment for gluing of solid timber components 
Sanding machines
Veneer processing 
Tenoning machines
Profiling and sizing machines (trimming, lenght cutting, profiling, sanding...)
 Materials
Raw material, wood-based materials and misscellaneous materials
Supplies fort the furniture industry, fixtures and fittings
Furniture components
Protection and finishing products
Materials and parts for foldaway fixtures
Panels, boards coverings
Semi-finished product
Hardware
 Tooling and Equipment
Manual hand - held tools 
Portable tools
 Robotics and Automation
Robots for handling, feeding and palleting
Robots for spraying, lacquering, etc...
Robots for joining and assembling
 Treatment and Finishes
Cleaning and polishing products
Protective and finishing products, varnishes, paints and lasures
Wood repair products
 Construction and outdoor furnishing
An exhibition that brings together all the players in the wood sector
At the heart of one of the leading French regions for timber conversion, Eurobois has established itself as the industry's leading trade fair and benefits from a national influence that is constantly growing.  A true meeting place to make contact with relevant visitors from all trades  :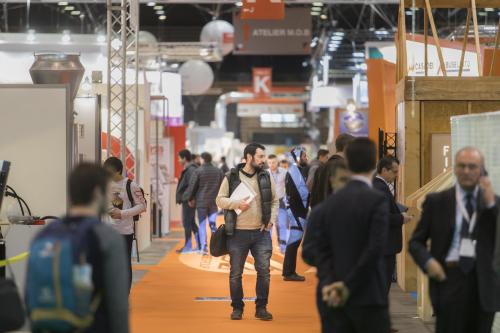 © Alexandre Moulard
Outfitters
Carpenters
Cabinet makers
Joiners, industrial joinery firms
Forest exploitation companies
Local authorities
Traders
Specifiers
Who visit?
MAKE CONTACT WITH RELEVANT VISITORS FROM ALL TRADES !
Eurobois is addressed to all professionals involved in the timber conversion and timber-related materials in search of new suppliers and innovative solutions : 22,883 professionals were present on the 2022 edition of the exhibition.
2022 key figures
22,883 professionals in attendance
5.3 % international visitors from Switzerland, Italy, Belgium, Maghreb, Germany
Over 45 % visitors from outside the Auvergne Rhône-Alpes region
*2022 edition figures
---