04 June 2021
EUROBOIS 2020 Timber Frame House workshop: reminders of a big success!
In February, 2020, Mac Diffusion, a company specializing in machines and automation for timber construction, ran a full-scale workshop at the centre of the Eurobois exhibition. It was a live opportunity for visitors to discover timber construction equipment, tools, and know-how. Cruard Charpente produced no less than 400 square metres of building boards in the workshop for use on its sites. Project participants relate their recollection of this demanding but uplifting experience. 
Stakes ran high in the Timber Frame House workshop project. The aim was to prefabricate the equivalent of four full-sized timber frame houses during the exhibition then deliver them to actual construction sites for use. Visitors were thus able to discover all the workshop construction stages—design, cutting, assembly, handling, lifting, transport, installation—before their very eyes.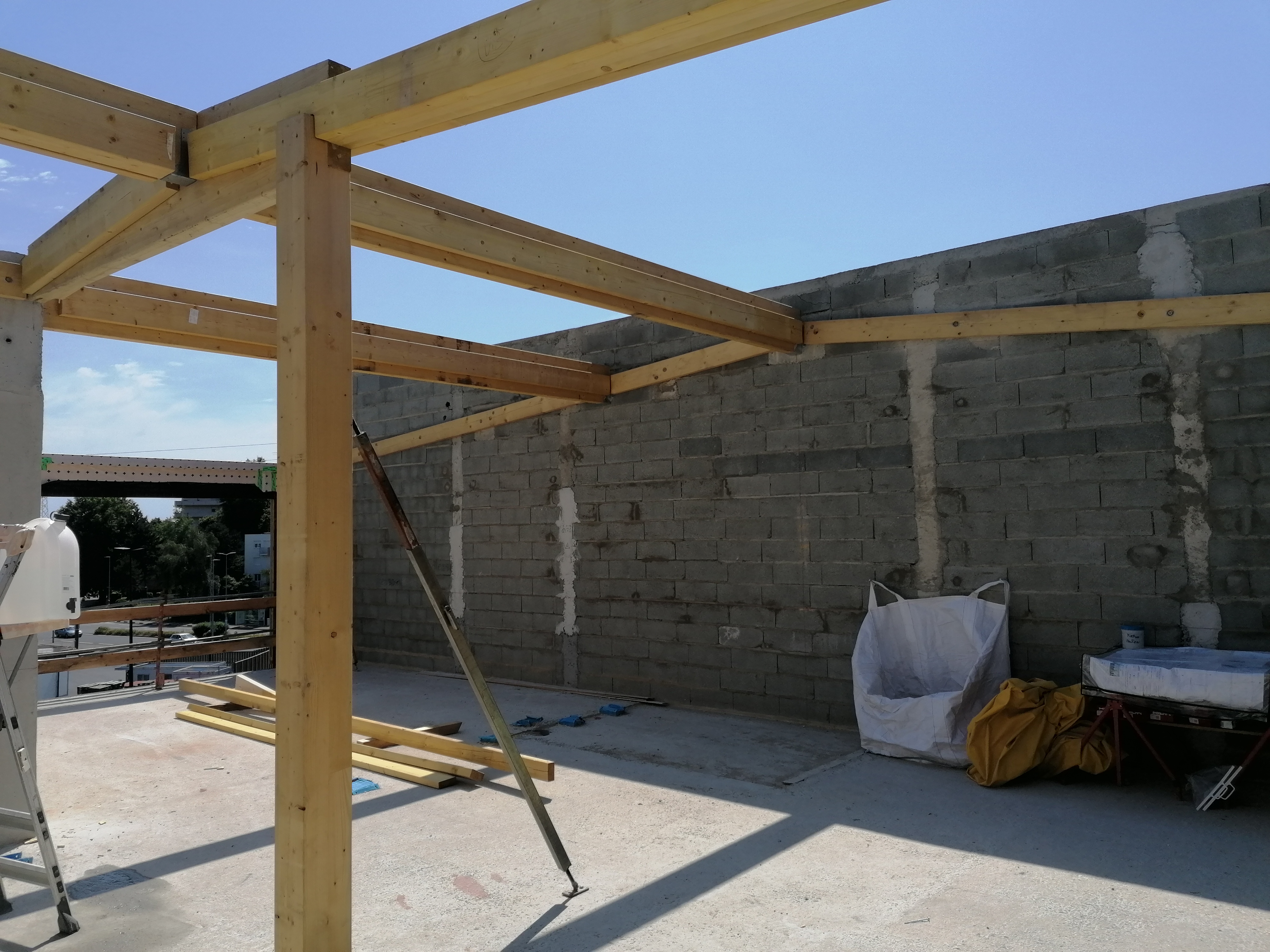 A great opportunity for Cruard Charpente!
More than a dozen partners joined forces in this adventure, organized for the second time by Mac Diffusion. Among them was Cruard Charpente, a medium-size Mayenne business with a workforce of 130. This company, specializing in timber frame construction and complex carpentry as well as restoration of historical heritage, is a long-standing partner of Mac Diffusion. So when Mac Diffusion's Eric Guillot approached Cruard Charpente director Florian Lefèvre, there wasn't a second's hesitation:
Mac Diffusion's demonstration machines were perfectly suited to one of our current jobs, namely the Les Balconnières residence in Nantes. The residence comprises two three-storey buildings and 35 homes that sport the E+C– (positive energy low carbon) label with an E3C1 rating, built for the Nantes-based affordable housing provider LogiOuest. We had to produce small, repetitive runs, representing a great opportunity for visitors to see running machines manned by real operators, and for us to try out new equipment in a real-world situation.
400 square metres of boards in 4 days! 
Four Cruard Charpente employees were on the stand. "Building work was set to begin just after the Eurobois trade show, with the walls installed in early March; so the schedules were a perfect fit. In anticipation of the prefabrication, we made prototype boards ahead of the event and had them validated by the project's architect," explains job superintendent Marc-Antoine Billard. These prototypes were on show at the workshop. Together with a 3D visual of the frame and a technical data sheet on the Les Balconnières project, they gave visitors a good grasp on the end use of the parts whose manufacture they were watching. "We made some 400m² of timber frame boards in the space of 4 days, all in good working conditions. We had adequate overhead clearance and the right machines for the job." Once production was complete, the boards were shipped on transport racks to the company's Nantes workshop. "We still needed to fit the facing and lagging prior to installing them, but—alas—before we could, the Covid hammer fell, and the first lockdown and the following crisis measures threw the schedule way out, so we've only just finished the job!"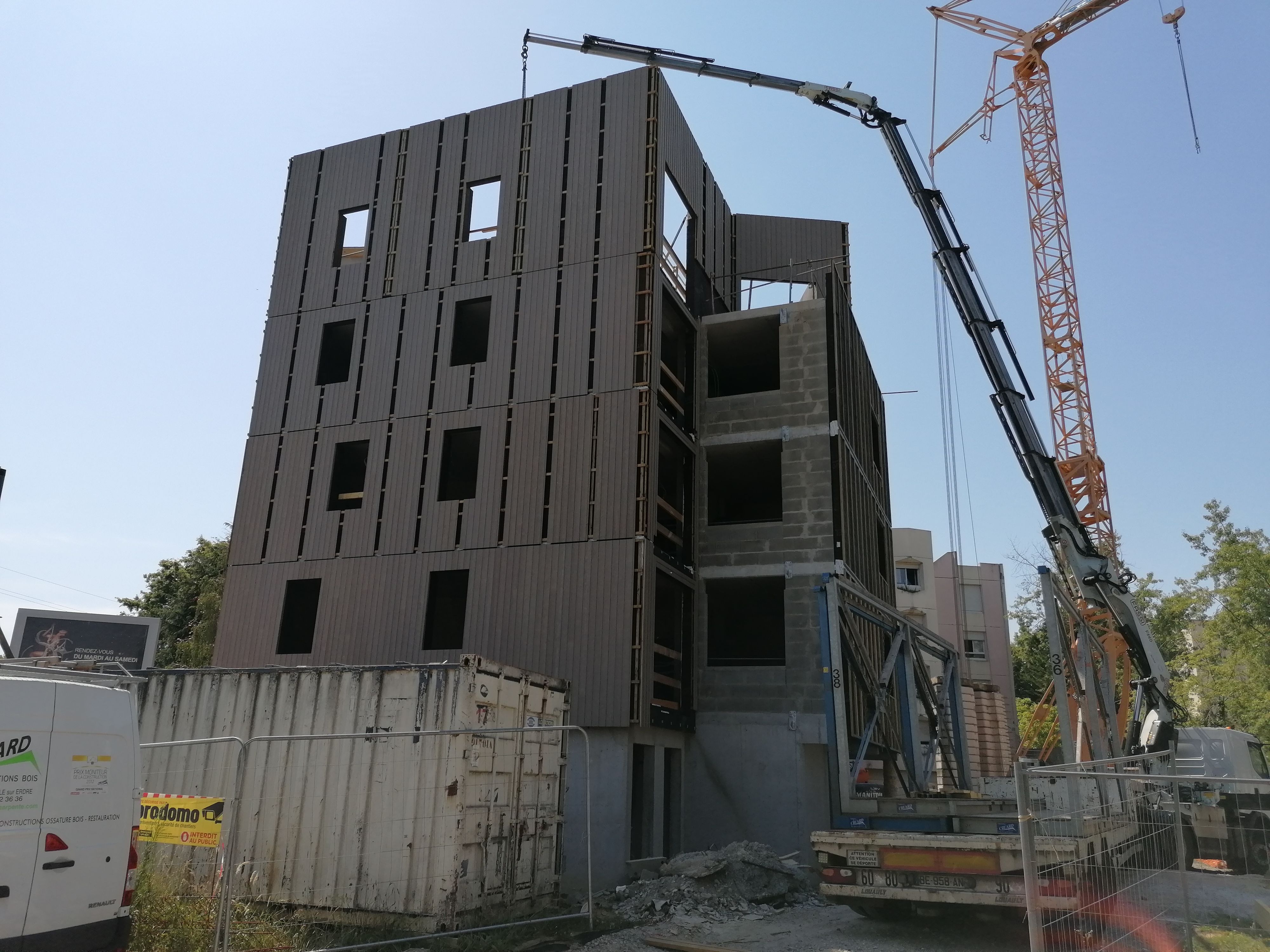 A workshop where everyone's a winner!
All of Cruard Charpente's jobs are prototypes. The company needs flexible tools that can adapt to all production constraints. 
We have worked in close partnership with Mac Diffusion for 10 years now. We give them feedback on their machines. That's how they are able to continue developing them to suit our new requirements. What's more, they're a French manufacturer and that's important to us.
points out Florian Lefèvre, for whom participation in the Timber Frame House workshop was an interesting experience on two fronts. He was able to try out new machines from Mac Diffusion and thus acquire new equipment—a manipulator with suction cups that his employees tested at the trade show—and he was able to discover all the other facets of the Eurobois trade show. "We took the opportunity to go and see other manufacturers, other machines being demonstrated. It was very enlightening in every aspect! We will doubtless return to participate in future editions, perhaps not 2022 as we need a project whose schedule lines up, and then there are the logistics that need a lot of planning. But it's certain we will be back in the not very distant future!"