Welcome to the Press Area of Eurobois 2022! 
Find here all the press information regarding the exhibition.
FOR MORE INFORMATION, CONTACT OUR PRESS AGENCY
Le Crieur Public
Morgane LIEUTET
Phone: +33 (0)6 71 10 86 52
E-mail: morgane.lieutet@lecrieurpublic.fr

PRESS RELEASE AND PRESS PACK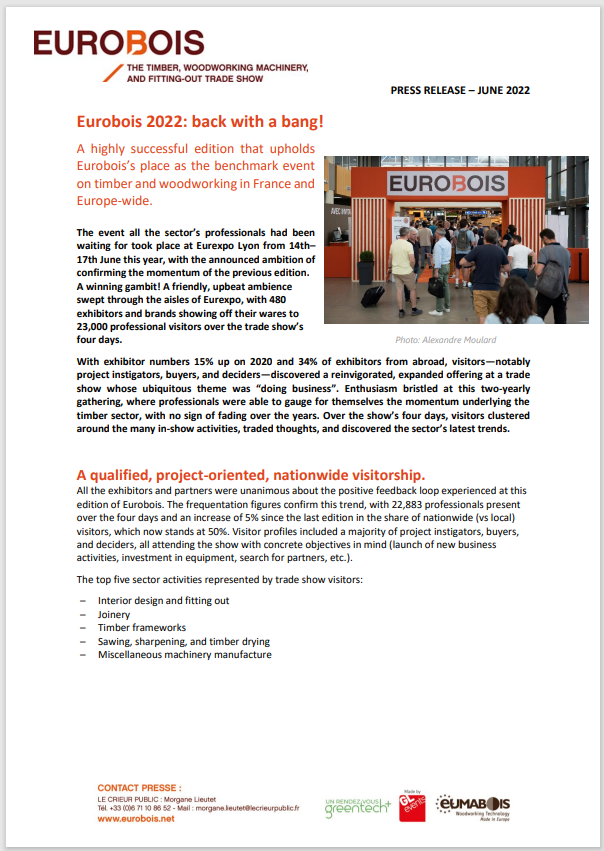 Press release : Eurobois 2022: back with a bang! - July 2022
A highly successful edition that upholds Eurobois's place as the benchmark event on timber and woodworking in France and Europe-wide.
The event all the sector's professionals had been waiting for took place at Eurexpo Lyon from 14th– 17th June this year, with the announced ambition of confirming the momentum of the previous edition.
A winning gambit! A friendly, upbeat ambience swept through the aisles of Eurexpo, with 480 exhibitors and brands showing off their wares to 23,000 professional visitors over the trade show's four days.

Press release: the competition that promotes innovations and all players in the wood industry - May 2022
The 2022 edition of EUROBOIS—the benchmark trade show of the timber, woodworking machinery, and fitting-out sectors—is being held at Eurexpo Lyon from 14–17th June, 2022. Among the show's highlights, the EUROBOIS AWARDS will be rewarding innovations, new products or services, and technical evolutions presented by industrial and manufacturing companies. This year, the contest itself innovates!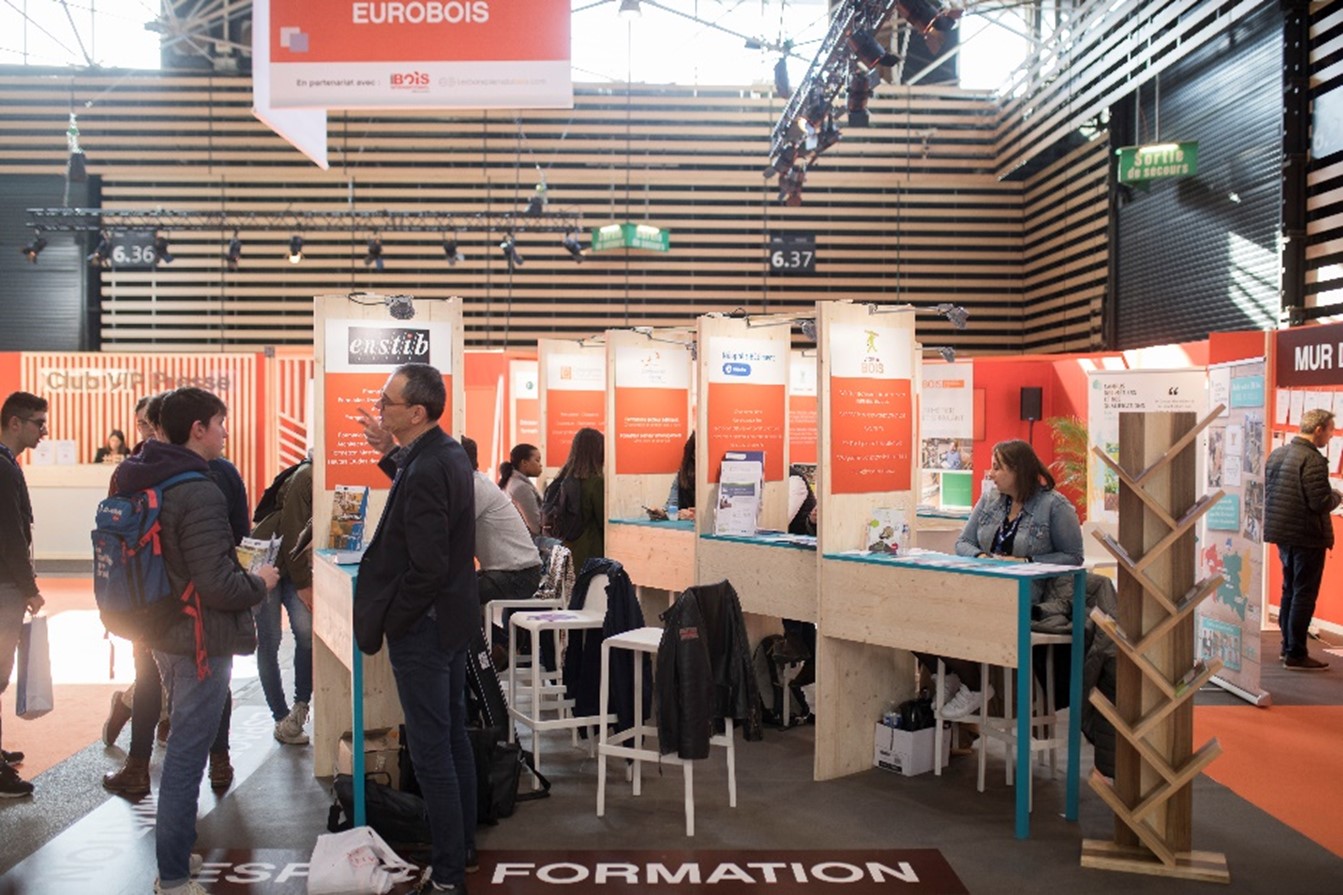 Press release: The Eurobois Campus is back to support employment and training in the sector! - May 2022
Employment and training will once again be one of the main themes of the next edition of Eurobois, to be held from June 14 to 17 at Eurexpo Lyon, France. And for good reason: in a context of strong growth due to new regulations and the support of public authorities, the wood industry is struggling to recruit. Lack of attractiveness of the trades, new challenges related to the arrival of digital and 4.0 ... The reasons are many.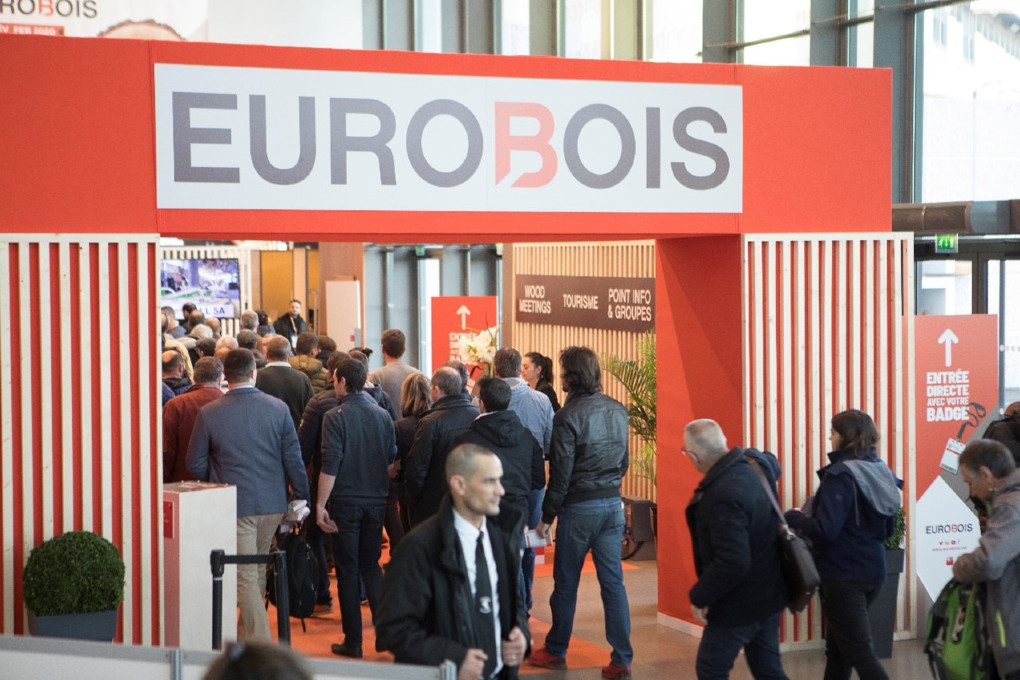 Press release REPORT EUROBOIS 2022 - January 2022
Eurobois, the timber, woodworking machinery and fitting-out trade show organized by GL events' GreenTech+ division, has announced that its 2022 edition will be held from 14 to 17 June at Eurexpo in Lyon, instead of from 1 to 4 February, as initially planned.
---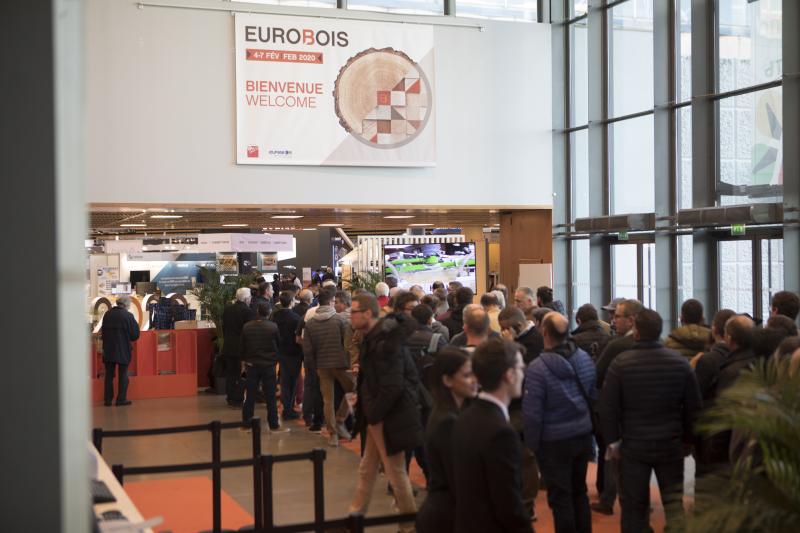 Crédit photo : Alexandre Moulard
Press release EUROBOIS 2022 - November 2021
The next edition of Eurobois, the timber, woodworking machinery and fitting-out trade show, will be held at Eurexpo Lyon from 1st to 4 February.
---

Press release: Eurobois 2020: An outstanding edition! - February 2020